"Intelligence and skill can only function at the peak of their capacity when the body is healthy and strong." John F. Kennedy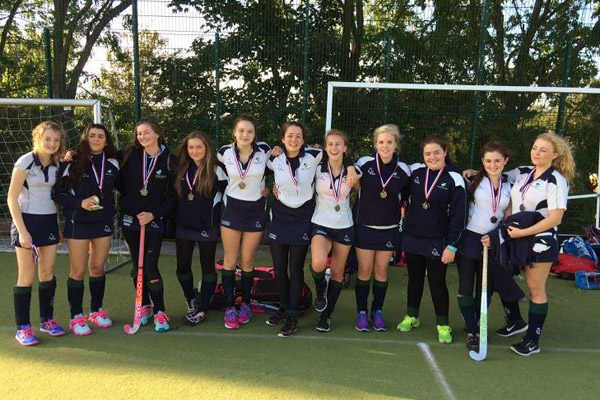 In addition to improving physical skill, health and fitness, participation in physical activities builds confidence, resilience and mental toughness. It allows pupils to experience a sense of achievement, helps their leadership skills and also teaches them the importance of hard work and discipline.
At Teesside High School, all pupils follow a broad, balanced activity programme where the main aim is to develop sporting performance through learning, understanding, practising, planning and evaluating.
WINTER TERM SPORTS
| | | | |
| --- | --- | --- | --- |
| KS3 BOYSRugbyHockeyBasketballFootballBadmintonFitness Suite | KS4 BOYSRugbyHockeyBasketballFootballBadmintonTrampoliningFitness Suite | KS3 GIRLSHockeyNetballBadmintonVolleyballTrampoliningPom-DanceGymnastics | KS4 GIRLSHockeyNetballBadmintonVolleyballTrampoliningPom-DanceGymnasticsZumbaFitness Suite |
SUMMER TERM SPORTS
| | | | |
| --- | --- | --- | --- |
| KS3 BOYSAthleticsCricketTennis | KS4 BOYSAthleticsCricketTennis | KS3 GIRLSAthleticsRoundersTennis | KS4 GIRLSAthleticsRoundersTennis |
MAIN TEAM FOCUS
GCSE PHYSICAL EDUCATION AQA
GCSE Physical Education provides students with the knowledge and understanding of how to live a healthy and active lifestyle, enabling them to make informed choices about their own physical development. Students can choose from a variety of roles and activities in which to participate in physical activity.
Students will learn how to analyse and evaluate performance and suggest effective plans for improvement.
This course has 60% practical controlled assessment.
PE (Full Course) 4892
Unit 3: Knowledge and Understanding for the Active Participant
Written Paper – 1 hour 30 minutes
80 marks – 40%
Within Unit 3 pupils appear to particularly enjoy topics such as sports injury, training programmes, diet, the media in sport and respiration.
Unit 4: The Active Participant
Controlled Assessment – 90 marks – 60%
4 assessments from at least 2 groups: at least 2 as player/performer.
In Unit 4, as a result of our small class sizes we are able to assess pupils in their four strongest areas, this can range from any of the usual games activities to activities such as fencing, skiing, riding and circuit training. This obviously helps the pupils gain the best possible mark for their GCSE course.
A Level Physical Education AQA – Specification code (2580)
A-level Physical Education builds on students' experience from Key Stage 4 and GCSE to enhance their knowledge and increase their understanding of the factors that affect performance and participation in Physical Education. The qualification aims to equip students with skills and knowledge required for higher education.
This specification gives students the opportunity to experience and develop an interest in a variety of roles in sport, such as performer, official or coach.
The content addresses contemporary topics in sport, such as the impact in the use of ergogenic aids, technology and the increasing commercialisation of sport.
AS EXAMINATIONS
Unit 1 – PHED1 Theory
Opportunities for and the effects of leading a healthy and active lifestyle
60% of AS, 30% of A Level
2 hour written examination 84 marks
Two sections:
Section A – six structured questions
Section B – application of theoretical knowledge to a practical situation
Unit 1 includes topics such as:
Health, exercise and fitness
Nutrition
Pulmonary function
Transport of blood gases
Cardiac function
Analysis of movement in specified sporting actions (including planes and axes)
Levers
Information processing
Learning and performance
Current provision for active leisure
Potential barriers to
Participation and possible solutions for various target groups.
Unit 2 – PHED2 Practical
Analysis and evaluation of physical activity as a performer and/or in an adopted role/s
40% of AS, 20% of A Level
Internal assessment with external moderation
100 marks
Candidates perform, analyse and evaluate the execution of core skills/techniques in isolation and in structured practice as either a player/performer and in an adopted role or two adopted roles.
Candidates may choose to be assessed in their preferred roles in almost any sporting activity.
A2 EXAMINATIONS
Unit 3 – PHED3 Theory
Optimising performance and evaluating contemporary issues within sport
30% of A Level
2 hour written examination, 84 marks
Three sections:
Section A – how exercise physiology can optimise performance
Section B – how application of psychological knowledge can optimise performance
Section C – contemporary influences in sport and their impact on the performer
Unit 4 – PHED4
Optimising practical performance in a competitive situation
20% of A Level
Internal assessment with external moderation, 120 marks
Candidates perform, analyse and evaluate their own performance, identify areas of performance that they could improve, and suggest causes and appropriate corrective measures.
Unit 3 includes topics such as:
Aerobic energy system
Anaerobic energy systems
Specialised training
Sports injuries
Mechanics of movement
Aspects of personality
Controlling anxiety
Attitudes
Aggression
Leadership
Concepts and characteristics of World Games and their impact on the state and individual.
Whether the Olympic ideal still has a place in modern-day sport.
Causes of deviance in sport and the link between sport and the law as a result.
Factors that have influenced the commercialisation of modern-day sport.